Ways To Automate Lead Generation By Using 8 Tools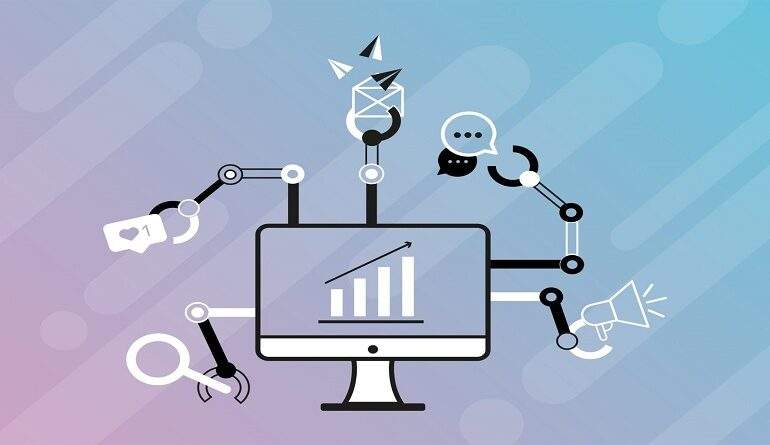 Want to generate leads faster and more efficiently? Learn how to automate lead generation and get a steady flow of quality leads without any extra effort.
Automating lead generation can help streamline the process, saving you time and effort while still generating high-quality leads. In this article, we'll discuss what automated lead generation is, how to automate lead generation, why it's important, tools available to help automate the process, and ways to make sure your lead generation efforts are successful.
Lead Generation
You can find and connect with potential customers through this process.
✔️ Attracting Leads
Start off by bringing in potential leads through social media and ads and optimizing Search Engine Optimization (SEO).
✔️ Identifying Leads
Identify those interested in your product or service based on how they interact with your website or other criteria. This helps you narrow down who may be interested in becoming a customer.
✔️ Capturing Leads
Capture leads through a newsletter signup form or other tools to gather information about them.
✔️ Lead Nurturing
Nurture these leads from strangers into customers with excellent communication and provide free content or other lead-generation strategies for Customer Relationship Management (CRM).
✔️ Converting Leads
Convert the leads into paying customers by using the trust established during the nurture stage to demonstrate the quality of your products or services.
✔️ Delighting Customers
Delight current customers so much that they want to share your business with their friends, creating new lead-generation opportunities.
Automated Lead Generation
It uses AI and machine learning-powered tools to generate leads across different channels. Outbound lead generation channels cover email marketing, cold calls, and direct mail.
For inbound channels, popular methods are PPC, content marketing, and SEO. Automated lead generation allows for automated tracking across the customer journey while optimizing conversion rates.
Automating Lead Generation: Key Benefits
Automated lead generation important is an excellent way to quickly and easily collect data and grow your email list. It gives website visitors a great user experience, ensuring they can convert to sales leads in a matter of minutes.
Here are some major benefits of automated lead generation:
i. Automate Processes
Set up a lead-generating tool and watch it go. Automation saves time, so you don'tdon't have to worry about every detail.
ii. Enhance User Experience
Show customers that you care about their email by giving them a positive experience with full automation.
iii. Grow Lead Volume
Convert more website visitors into leads and eventually pay customers with automated lead generation.
4 Ways to Automate Lead Generation
1. Automated Cold Email Outreach
Email campaigns can be a powerful tool for generating leads. To maximize the effectiveness of a cold email campaign, start by segmenting your target audience and crafting personalized messages that are tailored to their needs.
Additionally, leveraging A/B testing can help you understand what type of content resonates more effectively with your target audience. Finally, use automation tools to set up and send automated emails without wasting your time.
2. Automation through Customized Website Experiences
Creating an automated website experience for potential customers is also important for lead generation. By tracking user behavior on your website and delivering customized content based on their preferences, you can keep them engaged longer and increase the chances of converting them into real leads.
Additionally, utilizing dynamic personalization tools can provide further insights into user behavior. This will allow you to further refine the content you deliver and improve conversions even more.
3. Chatbot Automation
Chatbots can provide support 24/7 personally. Integrating a chatbot into your website or social media pages lets you quickly capture leads when they come looking for information.
You can also keep track of user conversations to know how best to engage with each lead going forward.
Additionally, using natural language processing (NLP) technology can help further refine the conversations between users and your chatbot. So that it is more conversational in nature and better suited for conversion optimization purposes.
4. Utilizing Website Data for Lead Generation Automation
Using data from your website is another great way to create an automated lead-generation process. By analyzing web traffic data from sources, you can identify potential customers who have already shown an interest in learning about your products or services.
Additionally, leveraging heatmap tools will allow you to gain insight into user behaviors on specific pages so that you know exactly where improvements need to be made in order to make those pages more engaging for potential leads.
Top 8 Tools For Automated Lead Generation System
1. Email Marketing and List Building/Management Tools
Email marketing links and list-building/management tools are essential for any business. They help you to create, manage, and track your automated email campaigns.
One of the most popular automated lead management tools in this category is Mailshake.
This email marketing software allows you to easily create personalized emails and segment lists and check for metrics such as click-throughs or open rates. You can also use it to automate follow-up emails, run mail merge campaigns, and nurture leads over time.
2. PPC Marketing Tools
PPC (pay-per-click) marketing is a great way to reach potential customers quickly and cost-effectively. Google Ads Editor is the best lead-generation tool available for managing your PPC campaigns. It provides an intuitive interface that makes it easy to set up campaigns, adjust bids, monitor performance, and optimize your campaigns for maximum ROI.
3. Customer Analytics and Data Collection Tools
Customer insights and data collection are essential for understanding customer behavior and increasing customer satisfaction. Hotjar is one of a few tools which helps you collect data from website visitors in real-time.
It provides heatmaps, recordings of user sessions, surveys, polls, sales funnel, forms analysis, feedback widgets, and more – all in one place.
4. Onsite Personalization & Landing Page Automation Tool
Onsite personalization is key to providing a great user experience on your website or landing page. OptinMonster is a great tool for creating personalized experiences on your site by targeting users with relevant content based on their behavior or preferences.
5. Customer Communication Tools
They provide the best customer service and support. The intercom is one of them. It allows you to send automated messages based on user behavior or preferences and provide live chat support directly from your website or app.
6. SEO Tools
SEO (search engine optimization) is an important part of marketing and sales teams as it helps increase visibility in search engine results pages (SERPs). Semrush is the best SEO tool. It has features all in one place, such as:
Keyword research & tracking
Backlink analysis & monitoring
Competitor analysis & benchmarking
Technical SEO auditing & optimization etc.
7. Content Marketing Automation Tools
Content marketing automation tools are essential for creating high-quality content at scale without sacrificing quality or creativity. HootSuite is a great platform for automating content creation processes, such as simultaneously scheduling posts across multiple social media channels.
The marketing team can also curate content from various sources into one feed etc., all within its dashboard environment.
8. LinkedIn Outreach Tools
LinkedIn outreach tools are invaluable when it comes to connecting with potential customers on the world'sworld's largest professional network platform – LinkedIn! Leadboost is an excellent tool that automates many aspects of LinkedIn outreach all within its intuitive interface, such as
Finding prospects based on criteria like job title/location/industry
Sending out personalized messages at scale etc.
The Bottom Line
Generating leads can be a daunting task, but with the right lead generation automation tools and systems, you can know how to automate lead generation.
Automated lead generation tools like Leadsfinder can help you streamline your lead generation process and make it easier for your team to nurture higher-quality leads.
LinkedIn is also a great platform for automated lead generation and client conversion systems.
Additionally, Salesforce and other lead automation systems can help you create a powerful funnel software that will maximize your efforts in generating leads.
With these tools in place, you can easily automate your lead management process and save time while still achieving great results.
FAQs
Can lead generation be automated?
Yes, lead generation activities can be automated using AI and machine learning tools.
What are the methods to automate leads?
Methods to automate leads include automated cold email campaigns, personalized website experiences, and leveraging social media.
How can I generate leads fast?
You can quickly generate leads by investing in high-quality tools and automating your lead generation process.
Why automate lead generation?
Automating lead generation helps streamline automated workflows and makes it easier for the sales team to nurture higher-quality and qualified leads.
How do you attract new leads?
You should focus on SEO, social media marketing, content marketing, and paid advertising to attract new leads.
What is the best source of leads?
The best source of leads depends on your industry and target audience; however, organic search results are often the most effective.
Related Post:
9 Ways to Use Facebook for Local Lead Generation