15 Steps to create LinkedIn Lead Gen Campaign Forms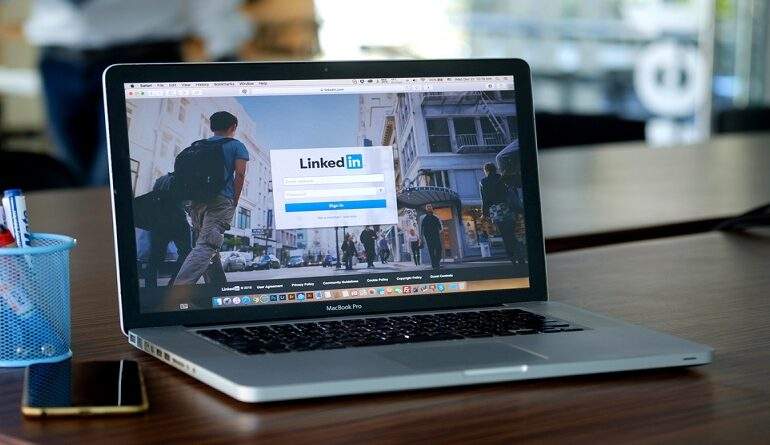 What are LinkedIn lead generation campaigns? How to Create Lead Generation Campaign on LinkedIn? So, LinkedIn Marketing Solution offers LinkedIn Lead Generation campaigns that are beneficial for businesses to collect information from potential customers using lead generation forms.
The campaigns can target specific audience segments on LinkedIn, such as job titles, industries, or geographic locations, and can include sponsored content and sponsored InMail messages.
So, LinkedIn lead gen forms can be customized to include the information the business wants to collect, such as name, company, email, or phone number.
The lead gen form collects information that can maximize business potential with conversion strategies.
Lead Generation Campaigns on LinkedIn can help businesses increase lead volume, improve lead quality, and streamline the lead collection process.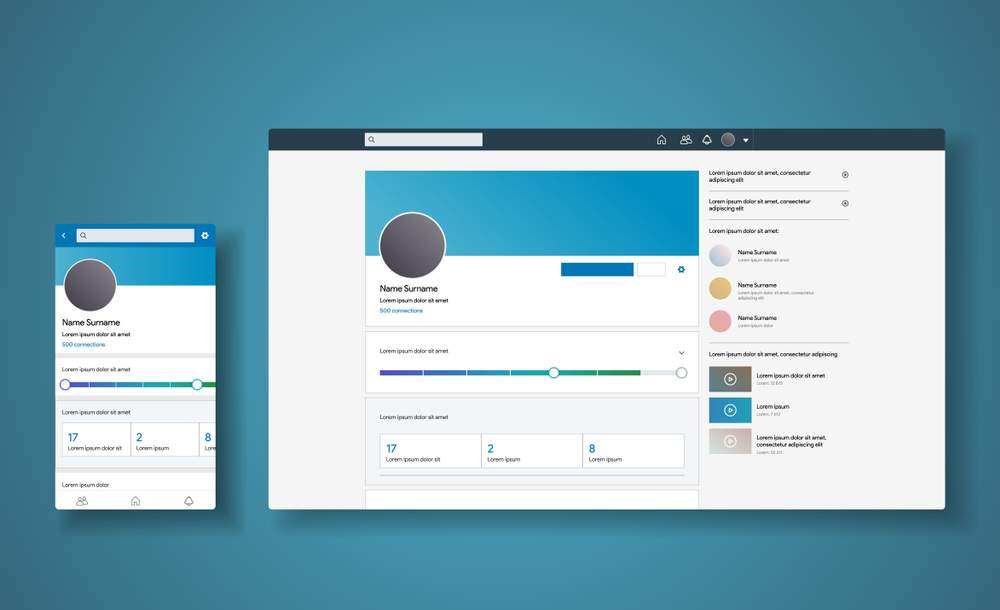 So, LinkedIn ads help businesses target and connect with a professional audience for brand awareness and lead generation.
How can lead generation forms help in your business growth?
LinkedIn lead generation tools provide a convenient and effective way for businesses to gather information from potential leads and advance their sales efforts.
So, LinkedIn lead gen forms assist in targeting potential audience reach through LinkedIn's professional network.
4 Ways LinkedIn Lead Gen Can Help Your Business:
Furthermore, lead gen form streamlines the profit and generates leads. Lead generation campaigns can help you and your business in the following ways:
1. Enhance potential lead volume:
By using LinkedIn lead generation strategies, you are targeting a larger number of audiences, which generates leads in high numbers as compared to other marketing channels.
2. Highly personalized leads:
So, LinkedIn's lead generation strategy is helpful to build a highly personalized audience depending upon the job title, industry, or geographic location, resulting in leads that are more likely to be interested in your product or service.
3. High conversion rate:
By providing a frictionless lead collection experience, LinkedIn lead gen can increase the likelihood of leads converting into customers.
4. Viable insights:
You can check how your lead generation campaign is working on LinkedIn. So, The data and insights of the performance can assist in the optimization of future campaigns and improve lead generation strategies.
How to get started with lead generation?
How to Create Lead Generation Campaign on LinkedIn? So, The process of creating a LinkedIn lead generation campaign is simple and straightforward.
15 Steps to create LinkedIn Lead Gen forms:
Open your LinkedIn page. Now, gain access to Campaign Manager by clicking the "Sign in to Campaign Manager" button.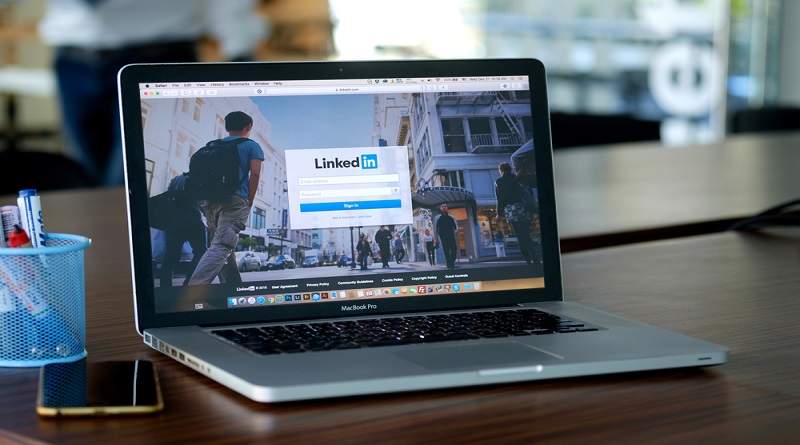 2. Choose the correct account name and campaign group for which you want to establish a lead generation campaign.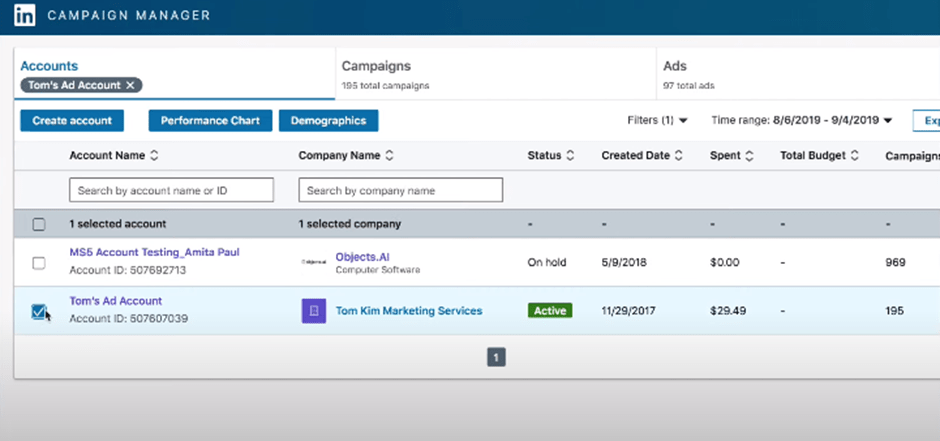 3. To initiate your lead generation campaign, click the "Create Campaign" button and create an ad that includes a lead generation form.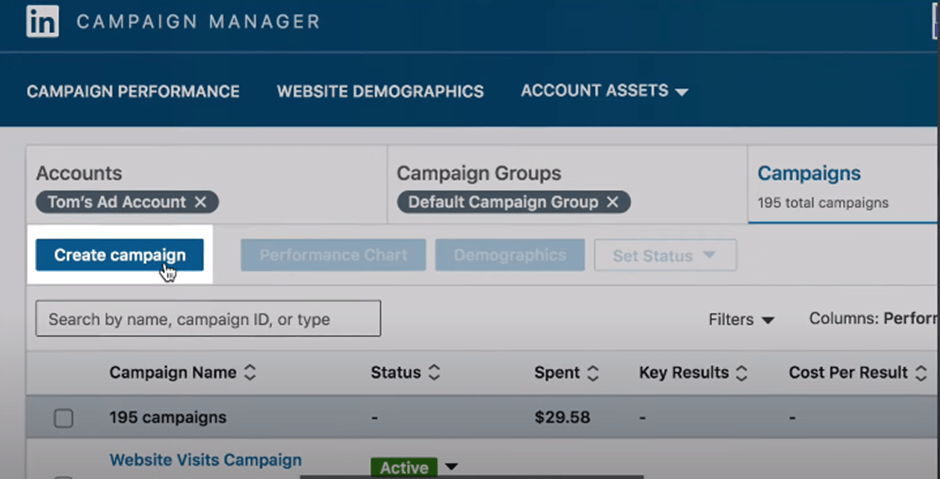 4. Suppose your objective is to promote a free webinar for lead generation. In that case, choose the "Lead Generation" objective, as lead generation forms are only accessible under this objective.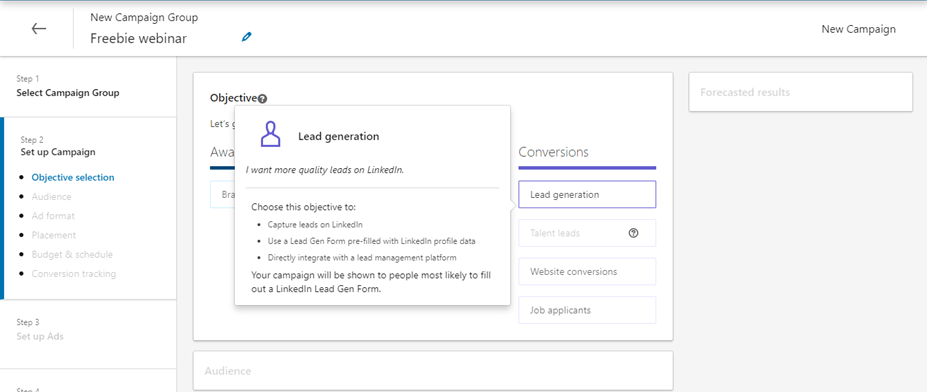 5. Next, determine the target audience's location for your campaign.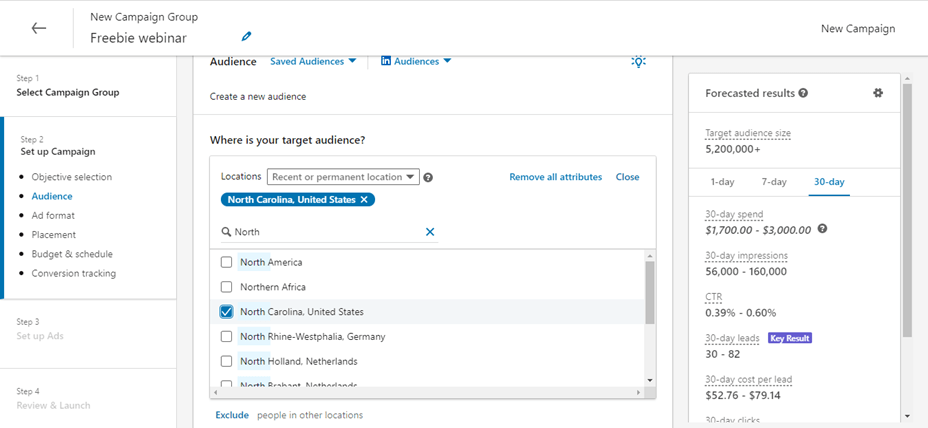 6. Personalize your target audience by specifying the audience type, ensuring that your campaign reaches only the most relevant individuals.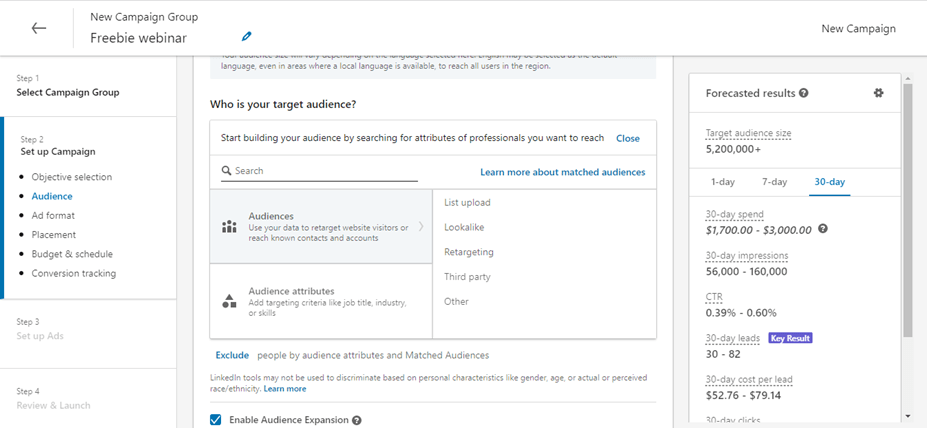 7. The LinkedIn Campaign Manager offers a variety of ad formats to fit your campaign's needs. Choose LinkedIn ad format according to your objectives.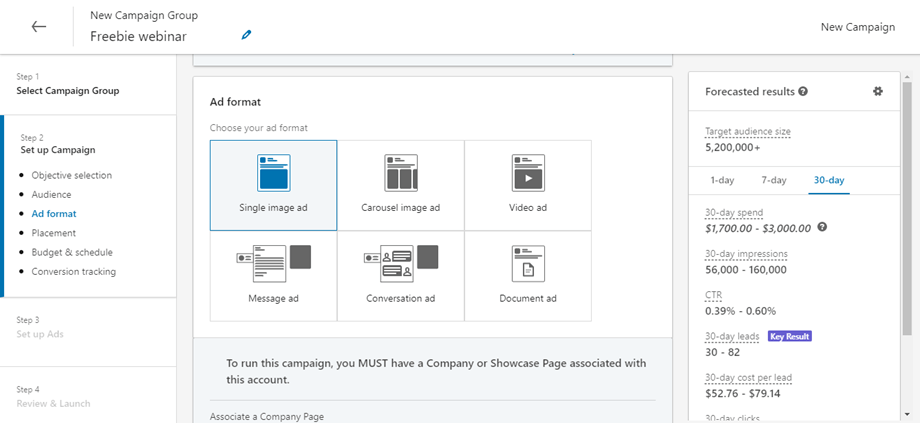 8. Finally, fill in the form fields for your budget and desired ad duration, and then click "Next."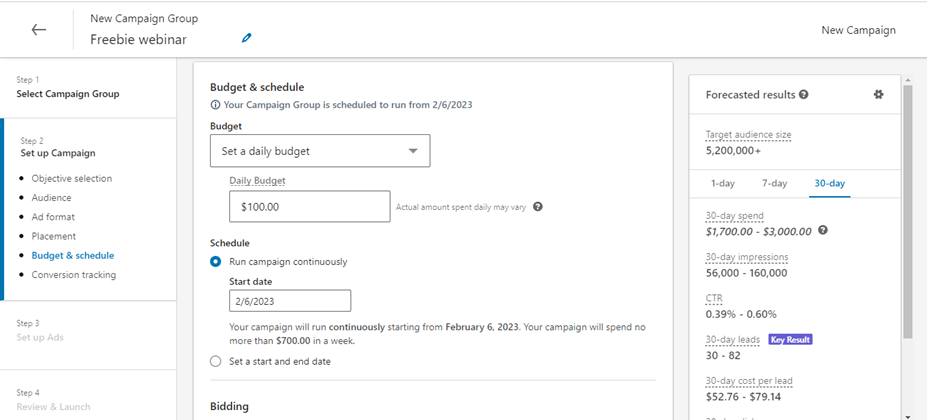 9. On this page, you have the option to either create a new ad or use an existing one. If you are running LinkedIn ads for the first time then select "Create New Ad."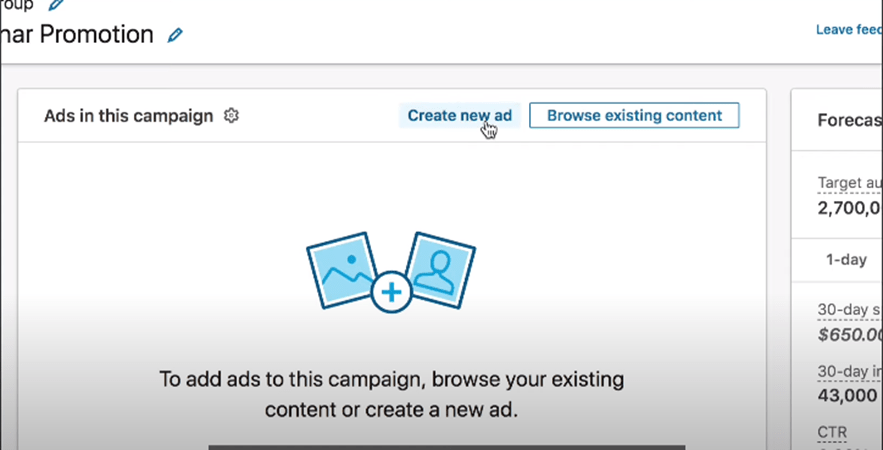 10. You can utilize a previously generated lead generation form. It is also possible to create a new one. In this instance, as we're constructing a new ad, we'll create a new lead generation form.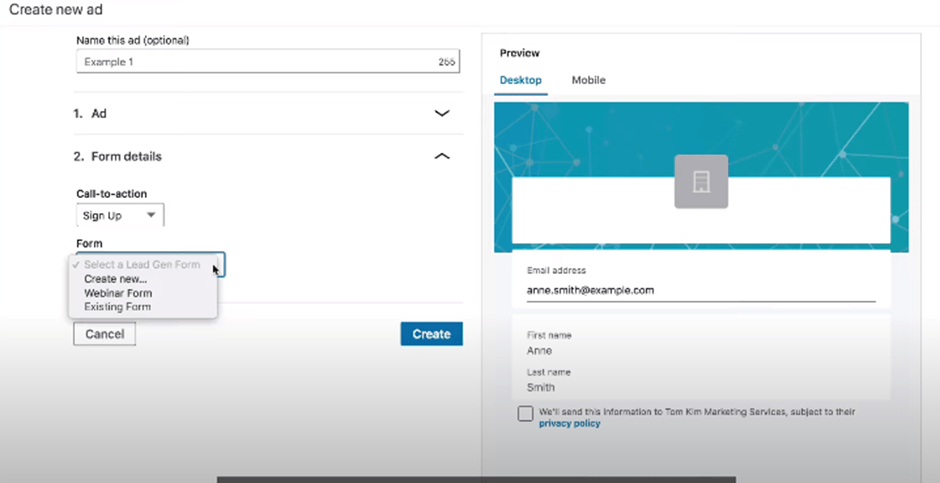 11. Assign an internal reference title to the form. So, Choose a language and include the form's title and description.
Add links to your company's privacy policy and any other privacy links you want to include in the ad.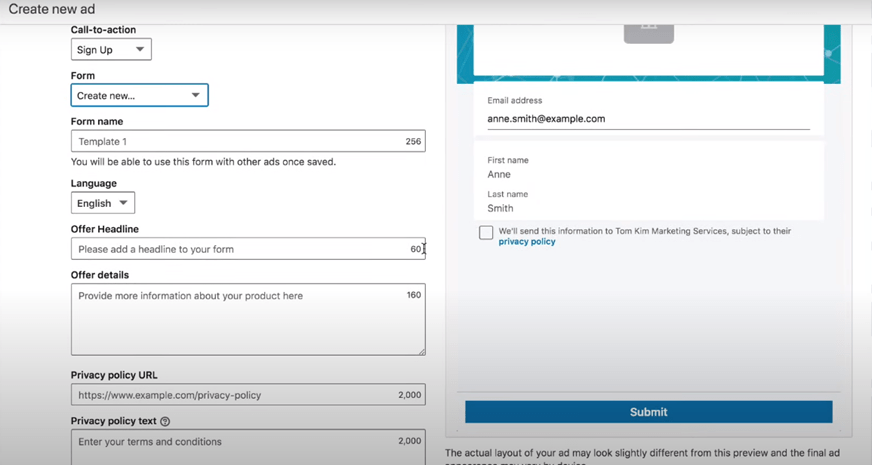 12. Specify the information you want to gather from prospects. So, This data will aid your team in qualifying and following up with leads.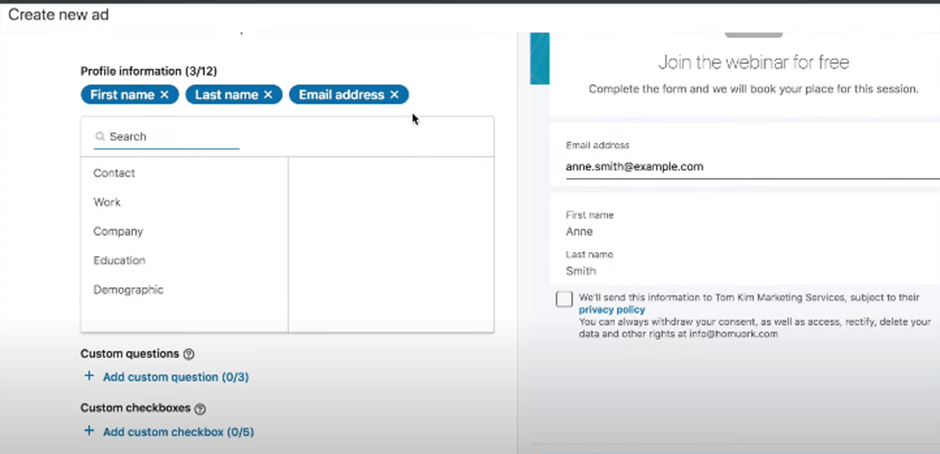 You can add up to 12 fields with three custom questions, but three to four fields are recommended.
So, If the member has shared this information in LinkedIn profile data then all fields will be pre-populated.
Additionally, you have the option to add extra checkboxes with multiple hidden fields.
13. Develop a thank you page as the final step. So, This page will be displayed to participants after they submit the form.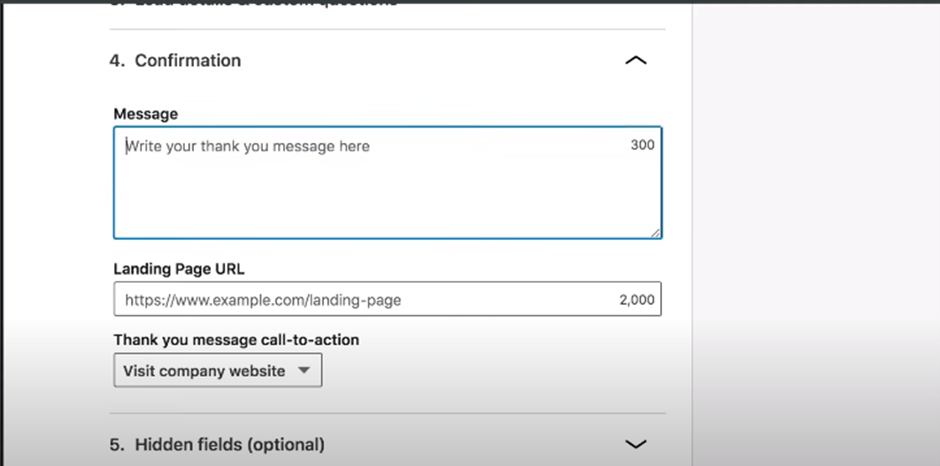 Utilize the thank you page to redirect leads to your offer or landing page, fulfilling your promise to them.
So, Adhering to your promises will result in obtaining qualified leads and higher profits for your business.
14. After incorporating the form, So, click 'create' to activate your ad. So, Finally, launch the campaign and you are all set.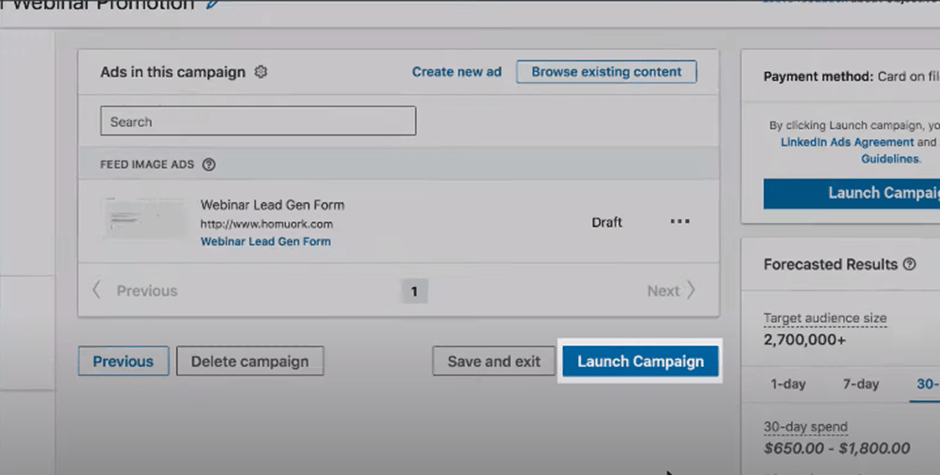 15. The option to create and save your lead generation form for future use is also available. If you are not ready to connect it to your ad yet, So, navigate to the "Account Assets" tab and select "Lead Gen Forms".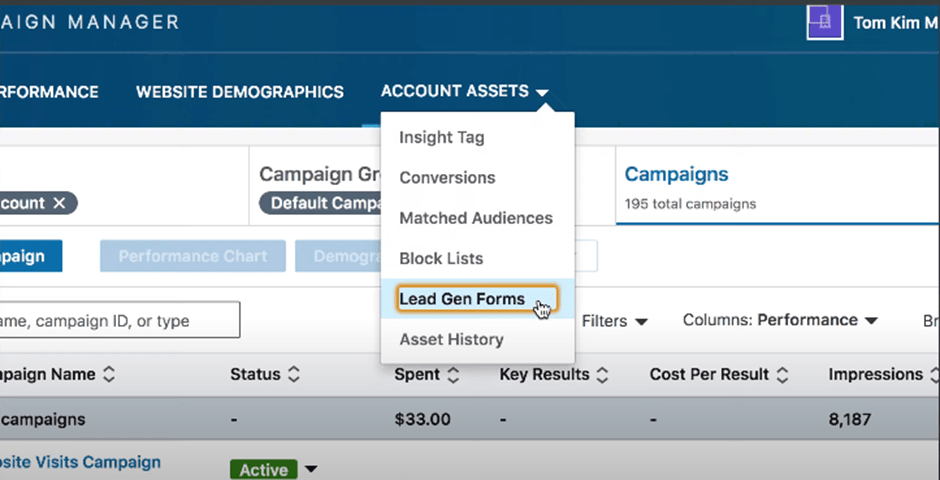 Here you can go through the process of creating a lead generation form and attach it to your ad when ready.
FAQs
What are the steps to acquire lead generation clients through LinkedIn?
Ensure that your top executives have a robust presence on LinkedIn.
Create a non-resisting page for your business on LinkedIn.
Stay active on LinkedIn and post content strategically.
LinkedIn groups offer community engagement opportunities.
Engage in LinkedIn groups where your target customers are hanging out.
Employ paid solutions to guarantee that your material reaches your targeted audience.
Utilize the connections you have with current customers and clients.
So, Stay consistent with your LinkedIn strategy.
Which ad format is most suitable for lead generation on LinkedIn?
LinkedIn offers several types of ad formats. Utilize Sponsored Content to showcase your company updates in the LinkedIn feed on desktop, mobile, and tablet devices.
So, Employ Message Ads for targeted and personalized messages that yield higher conversion rates compared to email. So, opt for pay-per-click Text Ads to market your brand with a succinct headline, description, and an accompanying small image.
What is the cost of LinkedIn lead generation advertisements?
The cost of LinkedIn lead generation depends upon several factors such as campaign objectives, target audience, bidding, and type of ad.
However, on average you can estimate the cost for LinkedIn lead gen ads as $5.26 per click, $6.59 for every 1000 impressions, and $0.80 per send.
Is it worth it to invest in a LinkedIn ad?
Absolutely. LinkedIn sales navigator is absolutely a good investment for your business. However, you can attach more tools to increase engagement and rapport time with the passage of time.
So, The overall experience of potential customers with your brand is greatly influenced by a multitude of factors the Sales Navigator has no control over.
Why LinkedIn lead-generation ads are beneficial for business growth?
So, LinkedIn Advertising offers precise targeting options for your target audience. Reach your Ideal Audience through Job Title, Company, Industry, Budget, and Other Targeting Criteria.
Related Post:
What is Inbound Lead Generation?
Ways to Automate Lead Generation by using 8 Tools